Public Talk by Dr. Jeremy Jackson "Friend or Foe: Economic Liberalism and Its Social Consequences" March 15, 2018, Kirby Hall

Public Talk by Dr. Dan Russell "Aristotle's Silver Mean" March 13, 2018, Tribble Hall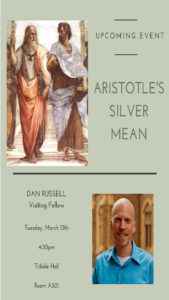 Lecture "Eudaimonia: Past, Present and Future" March 5, 2018, Rawabi City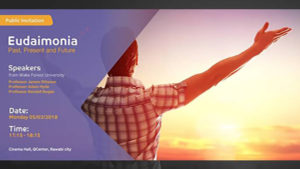 December 6, 2017:
4:00pm Wait Chapel
Join us for the inaugural Noesis Lecture delivered by Muhammad Yunus, winner of the 2006 Nobel Peace Prize. Professor Yunus will discuss his life's work and his vision for a world of zero poverty.
Professor Yunus is the father of microcredit, the father of social business, the founder of Grameen Bank, and of more than 50 other companies in Bangladesh. For his constant innovation and enterprise, Fortune Magazine named Professor Yunus as "one of 12 greatest entrepreneurs of our time."
A Fulbright Scholar at Vanderbilt University, Professor Yunus received his Ph.D. in Economics in 1969.
Professor Yunus returned to Bangladesh in 1972 and joined the Department of Economics, University of Chittagong, as its chairman. In 1976, Professor Yunus started to experiment with providing collateral free loans to the poor. The project was called Grameen Bank Project and later, in 1983, became a full-fledged bank for providing loans to the poor, mostly women, in rural Bangladesh. Today Grameen Bank has over 8.4 million borrowers, 97% of whom are women and disburses over one and a half billion US dollars each year.
In 2006, Professor Yunus and Grameen Bank were jointly awarded the Nobel Peace Prize.
October 19–21, 2017:

Register today for Rethinking Community, a three-day conference hosted by the Eudaimonia Institute and the Pro Humanitate Institute of Wake Forest University. It is our response to a call by Provost Rogan Kersh, to convene our counterparts across higher education to grapple with the effects of living in a society more virtual, diverse, polarized, and global than ever.
Come join world-renowned scholars, journalists, elected officials, and public intellectuals from across the ideological spectrum for courageous, robust engagement with the animating questions of our academic and political world. We are excited to bring together a diverse group of stakeholders willing to meet each other with the mutual respect and dignity necessary for our communities to flourish. We hope the weekend's events offer the first of many opportunities—at universities and beyond—for us all to foster open discourse and reflection upon what we expect of our communities, cultures, and selves.
April 20–22, 2017: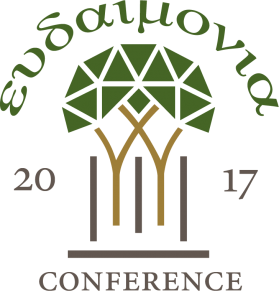 March 28, 2017:
Dr. Harrison's presentation will deal with the four ways in which art makes use of, or addresses, the incompletion of its representations.
The first—illustrated by an ostensibly complete work like Michelangelo's David—incorporates "off-screen space" within its subject matter (in this case the giant Goliath, not represented by Michelangelo's statue).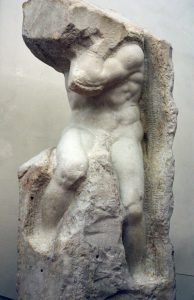 The second thematizes incompletion, as Michelangelo himself does in the literally unfinished sculptures of his Slaves or Captives for the Medici tombs.  Auguste Rodin takes this procedure to a more elaborated level.
The third art of incompletion does not merely thematize the artwork's failure to achieve completion, but figures it in a number of complex ways, exploring the problem of absent wholes, of linguistic failures and aporias, and is appropriately exemplified by the figurative arts of the early twentieth century and theorized by a series of 20th-century philosophers such as Ludwig Wittgenstein, T. W. Adorno, Heidegger, and deconstructionists generally.
The fourth art of incompletion reflects on this incompletion centrally within its work, in a self-conscious and occasionally postmodernist articulation of explicitly impossible-to-finish works, or works that no longer aspire to completion, but rather interest themselves with the provenance and destination of art (its uncontrollable reception).
Exemplifications of these four "moments" of aesthetic completion range from the sculptural arts of Donatello and Verrocchio to the writings of the novelists Robert Musil and C.E. Gadda (alongside the poets Ungaretti and Montale), to the photographs of Luigi Ghirri and the films of Michelangelo Antonioni and Ferzan Ozpetek.  The fourth stage of incompletion is exemplified (in PowerPoint, as throughout) by the recent fiction of Anna Maria Ortese. The ideal audience for this lecture would include students and instructors of art history, aesthetics, Italian culture and literature, philosophy, comparative and literary theory.