Main Content
Events
Spring Seminars
Finding Happiness in Angry World with Professor Michael Sloan begins Tuesday, January 21, 2020
Section I Philosophy & Social Science of Happiness with Research Associates Mona Ahmadiani and Fengyu Wu begins Wednesday, January 22, 2020
Section II Philosophy & Social Science of Happiness begins Thursday, January 23, 2020.
Photo Gallery
News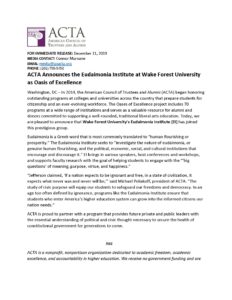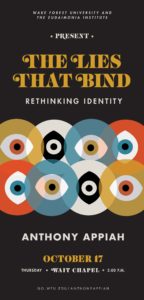 The Eudaimonia Institute's third Noesis Lecture Series features guest speaker Professor Kwame Anthony Appiah of New York University.  Professor Appiah is sponsored in conjunction with the President's office as part of the "Voices of Our Time" lecture series, a guest speaker series that brings some of the world's leading thinkers to campus.  The speech will be based on topics from his recent book, The Lies that Bind – Rethinking Identity.
The event is free and open to the public.  Thursday,  October 17, 2019, 5:00 p.m.,  Wait Chapel, Wake Forest University.