Events
Executive Director, James R. Otteson interviewing Muhammad Yunus about meaning, purpose, identity and empowerment through microcredit.
December 6, 2017:
4:00pm Wait Chapel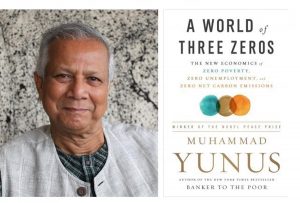 Join us for the inaugural Noesis Lecture delivered by Muhammad Yunus, winner of the 2006 Nobel Peace Prize. Professor Yunus will discuss his life's work and his vision for a world of zero poverty.
Professor Yunus is the father of microcredit, the father of social business, the founder of Grameen Bank, and of more than 50 other companies in Bangladesh. For his constant innovation and enterprise, Fortune Magazine named Professor Yunus as "one of 12 greatest entrepreneurs of our time."
A Fulbright Scholar at Vanderbilt University, Professor Yunus received his Ph.D. in Economics in 1969.