Culture, Religion, and Eudaimonia
(March 21–23, 2019)
Co-sponsored by William Horton Jr. ('91) and Charissa Horton ('92)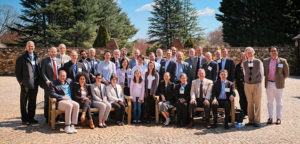 Eudaimonia is Aristotle's word for "well-being," "happiness," or "flourishing." The well-being and the flourishing of individuals, the happiness of families, and the prospering of communities is strongly affected by the economic, political, moral, religious, and cultural institutions in which they live.
This conference will bring together leading scholars from a wide range of disciplines and perspectives to explore the question: What roles do cultural and religious institutions and processes play in the development of eudaimonia? This will include exploration of the cultural or religious processes that may lead potentially to states of unhappiness and "ill-being."  To live a productive and fulfilling life requires an understanding of the profound ways these institutions shape and are shaped by individuals' life projects. We will engage, as well, with recent debates about whether human well-being and flourishing are improving or declining in the modern world.
This year's keynote will be delivered Thursday evening by James Davison Hunter, the LaBrosse-Levinson Distinguished Professor of Religion, Culture and Social Theory Professor of Sociology at the University of Virginia, where he is also the Executive Director of the Institute for Advanced Studies in Culture.
Hunter has written nine books, edited four books, and published a wide range of essays, articles, and reviews—all variously concerned with the problem of meaning and moral order in a time of political and cultural change in American life. His newest book is Science and the Good: The Tragic Quest for the Foundations of Morality (Yale, 2018). In recent years, he published The Death of Character: Moral Education in an Age without Good or Evil (2000), Is There A Culture War? A Dialogue on Values and American Public Life (with Alan Wolfe, 2006), and To Change the World (2010). These works have earned him national recognition and numerous literary awards. In 1988, he received the Distinguished Book Award from the Society for the Scientific Study of Religion for Evangelicalism: The Coming Generation. In 1991, he was the recipient of the Gustavus Myers Award for the Study of Human Rights for Articles of Faith, Articles of Peace. The Los Angeles Times named Hunter as a finalist for their 1992 Book Prize for Culture Wars: The Struggle to Define America. In 2004, he was appointed by the White House to a six-year term to the National Council of the National Endowment for the Humanities. In 2005, he won the Weaver Prize for Scholarly Letters.
Among theologians, religion is, of course, explicitly tied to the ideal of eudaimonia at the communal and individual level of existence. Diffusion of the idea of eudaimonia in the social sciences—and of virtue ethics more generally—is increasingly manifest in fields such as positive psychology, economics, political theory, sociology, and anthropology and has fostered vigorous and exciting new directions in tying these fields, both theoretically and empirically, to the field of ethics.
Wake Forest University President Nathan Hatch will offer welcoming remarks.
You can view the detailed schedule here.