News & Events –
In December 2019, the Eudaimonia Insitute was named by the American Council of Trustees and Alumni an "Oasis of Excellence."
Eudaimonia Scholar Spotlight: Guiyou Guan (Zachary)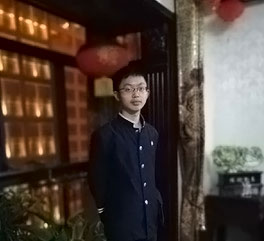 Zachary Guan is a freshman at Wake double majoring in Computer Science and Psychology. This summer, he worked at a local consulting group giving high students advice for university preparation and help them with advanced placement courses and standardized tests. He was able to learn more about how the company works and to effectively communicate and cooperate with others.
""Time is the currency of life." There are lots of life lessons I could take from the Eudaimonia institute. Through intellectual and interdisciplinary discussion. I can accept more viewpoints and got a better understanding of happiness in more context."
– Guiyou Guan (Zachary)
What is genuine human happiness?
How can it be achieved?
What public institutions—political, economic, moral, cultural—encourage human flourishing?
Purpose of the Eudaimonia Institute
The purpose of the Eudaimonia Institute (EI) is to explore the elements of and institutions that support eudaimonia, or genuine human flourishing. We are a community of scholars dedicated to developing an interdisciplinary understanding of what eudaimonia is, what the institutions are that support it, and what its chief obstacles are, all in the hopes of enabling more people to achieve eudaimonia.
Mission
The mission of the EI is to investigate the nature of eudaimonia, or genuine human flourishing, and the political, economic, social, and cultural institutions that encourage and discourage it.
We are interested in the exploration of both the theory of what eudaimonia is as well as its practical implications. We seek to understand what kinds of lives are truly worth living, as well as what policies, practices, and conventions should be encouraged to help people to lead such lives. We investigate eudaimonia not only at the level of individuals but also at the levels of organizations, communities, and societies. We expect that our research will help shape social reform and the national conversation, but we will not limit or confine our investigations by any prior concerns for their policy implications. Finally, the curricular and pedagogical implications of our research are also important to us: What does our research say about how we should frame liberal arts and professional education?
What Is "Eudaimonia"?
Eudaimonia (pronounced you-die-mo-NEE-uh) is Aristotle's word for the ultimate end or goal in human life, the end for the sake of which we do everything else. It is typically translated as "happiness," "flourishing," or "well-being." Broadly speaking, it is the cognizance of a life well and fully lived, a life of meaning and purpose in the service of goals, ends, and values worth serving.
Projects
Our investigations are motivated by the following criteria: to partner with and support the research of faculty at Wake Forest University; to bring in visitors and speakers; to host conferences and workshops; to support faculty members who can have homes in departmental units of WFU and also have an affiliation with the EI that will enable them to conduct research that furthers the missions of both their departments and the EI; to engage students in investigations into the "big questions" of meaning, purpose, virtue, and happiness; and to situate our research within Wake Forest University's Pro Humanitate educational vision.
In light of these parameters, here are some of the lines of research the EI is committed to exploring:
What exactly is eudaimonia? Can it be defined, assessed, and measured—and, if so, how?
What is the connection between eudaimonia and financial health, inequality, family life, and stability or security?
What role do work, leisure, freedom, purpose, and achievement play in eudaimonia?
How can or should employers or firms influence eudaimonia?
What role do the humanities, fine arts, athletics, good nutrition, or mental health play in eudaimonia?
How do different educational systems, practices, or opportunities affect eudaimonia?
What roles can or should individuals play in generating their own eudaimonia?
What economic, fiscal, political, or regulatory policies should we recommend or discourage to advance human flourishing?